Automatically Text & Call Your Leads at Exactly the Right Moment
If you're investing in generating leads, it's important to invest in closing them, too.
Calldrip's lead-to-consultant automation simplifies your lead response, when you get a new lead, you'll be able to instantly send an automated text message and then follow up with an immediate phone call.
The best time to communicate with a prospect is at their peak moment of interest, while they are actively shopping.
Responding faster creates a competitive advantage by engaging shoppers before your competitors, taking them out of the digital marketplace.
Calldrip automates the process so you meet prospects at the right time on the right channel - All you have to do is pick up your phone.


Transform Your Lead Response
Shoppers on average submit leads to 3 dealerships, studies show that you are 100X more likely to connect within 5 minutes instead of 30 minutes.
With Calldrip you can reply in seconds!
Every Calldrip subscription includes…
Rapid lead response so you can immediately call and text your prospects.
Customizable website chat widget that converts website visitors into leads.
Text enabled Call Tracking, we can even add text capability to your existing land line.
Automated receptionist included in our call tracking to save thousands on your phone system.
Automatic Google My Business review capture from both phone and text conversations.
Personalized coaching tools to constantly improve sales process performance.
... all in one place.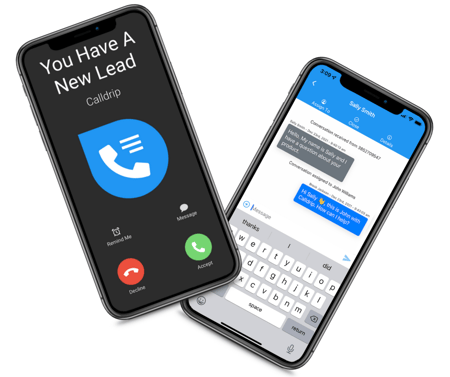 Thousands of dealerships use Calldrip for automating rapid lead response, tracking calls, and coaching their sales teams.